OCP celebrates 30 years as the organic experts
Back
Posted On: 9/6/2021 5:17:34 AM
2021 marks the 30 year anniversary of Organic Crop Protectants (OCP) having been founded in 1991 by Leyland Minter and Dr Doreen Clark (AM). Initially their combined horticultural and chemistry knowledge led to the development of organic sprays for commercial growers. Over time the OCP team grew and the product range was expanded into fertilisers and soil improvers. Demand from home gardeners saw the launch of the eco-organic garden range in 2005 which made our products accessible to everyone via nurseries and hardware stores.
Since then the product range has expanded even further. Many of the new products are specialist products used by commercial growers but that changed in 2016 with the launch of Slasher Organic Weedkiller. Slasher took 10 years to develop and has proven extremely popular with both home gardeners and commercial growers. In fact Slasher was so popular it won 'Organic Product of Year' in 2017 and continues to go from strength to strength.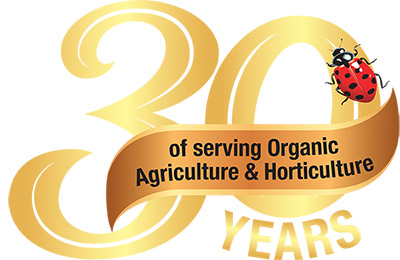 New to the home garden range is OCP eco-shield organic snail & slug killer. It's launch will be in spring 2021 and we're super excited to give home gardeners an easy and organic way to control these damaging pests. Bulk sizes will be available later in the year for commercial growers.
We know many of you have been long time supporters of our products and we'd like to take this opportunity to say thank you. Without that support we wouldn't be here celebrating 30 years. We also can't wait to see what the next 30 years will bring in the world of organic gardening!