How To Grow Your Own Salads
Back
Leafy greens can be grown year round in Australia but they just seem to taste better during the warmer months.  They are quick and easy plus they don't take up much room.  Perfect for pots or small garden beds so everyone can have fresh salad leaves at their doorstep.
Try experimenting with lots of different types.  Along with regular lettuces liven things up with mizuna, mustard greens, rocket, radicchio, endive and more! Many of these are plants which you can harvest leaf by leaf over an extended period.
For the greatest choice in plant varieties grow them from seed. More and more stores now stock organic seeds but if you have trouble finding some check out online suppliers like Greenpatch Organic Seeds or Greenharvest. The options are endless!
Growing leafy greens from seed is very easy and in most cases fast. Rocket lives up to its name by germinating within a few days.  Another reason to use seeds is that you can stagger your plantings.  Some lettuces and greens bolt to seed during very hot weather so staggered sowings over the summer help to overcome this.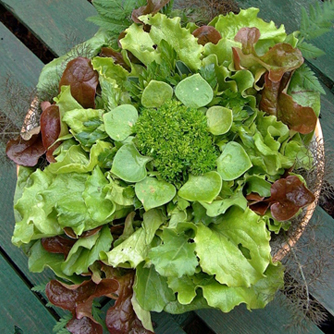 Growing Tips
Improve your soil: boost nutrient levels and water holding capacity by digging compost or aged animal manure into garden beds prior to planting. Use certified organic potting mix if planting into containers.  Add some dolomite 2-3 times a year to ensure plants have a sufficient supply of calcium and magnesium.
Protect seedlings: snails and slugs will devour young seedlings in a flash so protect them with a scattering of OCP eco-shield pellets.
Liquid fertilise fortnightly: you'll get faster growing plants which means more produce for the dinner table. Leafy greens can also turn bitter tasting if grown slowly so fertilising is a way to keep them sweet.  Use OCP eco-seaweed combined with OCP eco-aminogro for healthy plant growth.
Water frequently: keep plants moist by watering regularly. Drying out will also cause bitterness and encourage plants to bolt. OCP eco-hydrate apply monthly to the soil during the hot months to help keep plants evenly moist.
Now to complete your salad just add a dressing of olive oil and balsamic vinegar and you'll have your very own homegrown green salad in minutes!