Rosemary
Back
Rosemary is a highly aromatic herb which is one of the hardiest and easiest of plants to grow. A staple ingredient in Italian cuisine, it is delicious in stuffings, on roasts or sprinkled on potatoes. Leaves can be used both fresh or dried and stems can be turned into skewers by stripping off leaves. It also has medicinal uses as an antiseptic and is said to improve memory. And we can all relate to that! Now, what was I going to say? Oh yes…
A versatile, quick growing plant that works well in any style of garden – from formal to cottage – it can be hedged, potted, shaped or allowed to run wild.  Growing up to 1.5m high and wide, flowers can be pink, blue, mauve or white with upright forms and trailing varieties.  The prostrate variety called 'Irene' is probably the best rockery plant you will ever come across.
Other varieties to look out for are 'Pink Remembrance', 'Tuscan Blue' with lovely upright growth and 'BBQ Blue' which grows into a nice rounded shrub approximately 1.2m x 1.2m.
Growing Conditions
Rosemary is a tough woody, perennial herb that is drought tolerant once established. Plant in well drained, loamy soil in a full sun position. It's frost hardy down to -5 degrees.
Rosemary comes from the Mediterranean region and is used to soils with high calcium content.  Apply dolomite when planting and again each summer to keep up calcium and magnesium levels.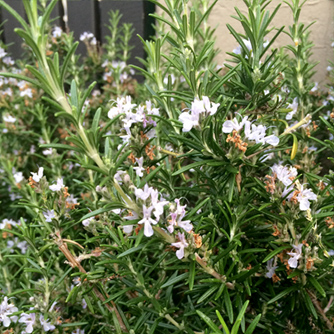 Pruning & Fertilising
Rosemary plants do not need a lot of fertiliser. Applying OCP eco-aminogro and OCP eco-seaweed mixed together every few weeks  will provide sufficient nutrients and keep your plant looking healthy and happy.
Pinching out the tips for use in the kitchen will keep the bush growing nice and compact. Rosemary resents hard pruning into old growth and it usually results in dieback.  Any dead wood that does occur should be removed to hopefully encourage new growth.
New plants can be propagated from cuttings at most times of the year and generally strike well. Best success will be from soft tip cuttings in early Summer and semi hardwood cuttings in late Summer to mid Autumn.
Pest and Disease Problems for Rosemary
Rosemary is seldom attacked by pests and diseases but if growing in poor conditions (not enough sunlight, wet feet or too much humidity) then problems may arise. Powdery mildew may attack the foliage or plants can rot and die off completely. Improve the growing conditions and if necessary apply an organic fungicide.
Scale, mites and aphids may also appear from time to time and can be controlled with a horticultural oil.