Orange Trumpet Vine
Back
Orange trumpet vine (Pyrostegia venusta) is one of the most spectacular winter flowering climbers you can find and is sometimes called the flame vine. If you want to make a statement in your winter garden then this is the plant for you!
This vigorous, twining climber comes from South America and is well suited to Australian soils and climate. It's magnificent orange flowers appear in winter and last right through to spring. It will easily cover a boring fence or garden shed but why not grow it on a pergola or arch for where the flowers can hang down on display. Suits many garden styles including cottage, tropical, coastal or modern.
How To Grow The Orange Trumpet Vine
The orange trumpet vine is a strong, evergreen climber that grows quickly. Choose a position where it has plenty of room to grow or plan to keep it pruned. It can grow over trees and shrubs if left unchecked.
The orange trumpet vine likes the warmth and need lots of sun and a bit of shelter from cold wind. It is generally frost sensitive but established plants can handle a light frost. It'll grow in a range of soils but will perform best if you improve the soil with compost, manures and some pelletised organic fertiliser. Good drainage is also important so if you have heavy clay soil apply some gypsum prior to planting.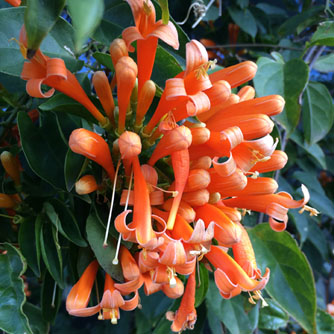 Once planted, water in with OCP eco-seaweed to establish the plant and mulch around the base to help with moisture retention. Whilst fairly drought tolerant it will appreciate some watering during the hot summer months especially in the first year.
Please note the orange trumpet vine does need some support for it's tendrils to cling to. Use sturdy wires or trellis that can take the weight of the mature plant.
Fertilising and Maintenance of Orange Trumpet Vine
Feed young plants with a combination of OCP eco-seaweed and OCP eco-aminogro every 2-3 weeks to encourage strong growth. Established plants will appreciate some manure, compost or pelletised organic fertiliser each spring and autumn especially if growing in poor soils.
Ideally after flowering prune the flowering stems back to keep the overall vine dense and close to the structure it is growing on. If you find the vine has gotten away on you then you can prune very hard at any time during the warmer months. It's a tough plant and can handle a serious haircut if needs be.
Pests and Diseases of Orange Trumpet Vine
The orange trumpet vine is usually trouble free but occasionally mites can appear. Spray with OCP eco-oil when you first see them and repeat the spray if needed. Scale may also occur and can be treated with a horticultural oil.