Violets
Back
Violets (Viola odorata) are an easy to grow plant much loved for their perfumed flowers. Sometimes called sweet violets or woodland violets they have heart-shaped leaves and produce fragrant blooms from late autumn through to spring. Purple is the classic flower colour but you can also get white, pink, apricot and mauve ones. Single or double flowering types can also be found.
Traditionally they are a symbol of love and have appeared in the mythology and folklore of many different cultures. In Australia posies of fragrant violets were sold in 1915 to raise money for WWI soldiers which further endeared Aussie gardeners to these charming plants.
Note that in Australia we do have several native violets but these are different species and do not have perfumed flowers.
How to Grow Violets
Violets love rich fertile soil that remains moist but without being waterlogged. They also prefer shady conditions which makes them perfect for growing under larger shrubs and perennials. They are not troubled by frost and in cooler climates can handle being positioned in full sun. Over time violets will spread to form a dense groundcover.
Before planting dig in some compost and manure to improve the soil. In very sandy soils add some clay as well. In heavy clay soil the addition of gypsum may be helpful.
Once planted water in with OCP eco-seaweed to help the violets establish faster and mulch with sugarcane mulch.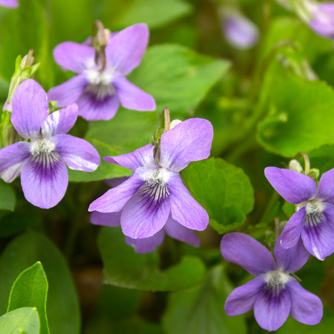 Fertilising and Maintaining Violets
Violets are tough plants and can survive on neglect but flowering will be significantly better if fertilised every 2-4 weeks with a combination of OCP eco-aminogro and OCP eco-seaweed. In addition topdress the bed every spring with a layer of compost especially if your soil is poor.
Deadhead flowers to encourage more blooms and remove any tattered leaves to keep the clump looking fresh.
Replace mulch as needs be to help conserve moisture around their roots.
Division and Propagation of Violets
Plants spread using runners which put down roots when they make contact with the soil to form new plants. These can be dug out when small and replanted elsewhere. Alternatively you can dig up the main clump, use secateurs to cut into smaller sections and then replant.
Violets will also self-sow and you can collect the seed by placing small mesh bags over the developing seed pods. Sow fresh seed into pots filled with seed raising mix and keep moist until seedlings emerge.
Using Violet Flowers
Violets make excellent cut flowers and a small posy will fill a room with their lovely perfume.
Violet flowers are also edible and can be added fresh to salads or candied to decorate cakes and desserts. You can even freeze the flowers inside ice cubes to add a wow factor to your drinks.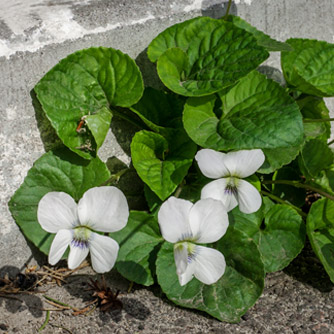 Pests and Diseases of Violets
Violets are usually trouble free if grown in temperate climates with adequate shade and moisture. However the following problems can occur when conditions are less than ideal:
Mites – most commonly seen when violets are growing in hot dry conditions. If possible move plants to a cooler position or increase the watering. Spray with OCP eco-neem ensuring very good coverage especially under the leaves.
Aphids – this sap sucker will seemingly appear in large numbers overnight. Spray with OCP eco-neem and again aim for good coverage of foliage.
Powdery mildew – usually this fungal problem occurs when violets are grown in humid climates. Remove badly infected leaves and spray with OCP eco-seaweed every 1-2 weeks to strengthen foliage so it is better able to resist attack. If the mildew persists then spray with an organic fungicide.