How To Attract Bees and Pollinators
Back
Attracting bees and other pollinators into your garden is very important as these valuable insects pollinate so many of the fruits and veggies we grow. Without them the veggie patch and orchard would look pretty bare.
Even though honey bees are the best known pollinators there are many other insect pollinators that we can attract including native bees, pollen beetles, adult hoverflies, some moths and more.  Despite their diversity they're all after one thing and that's the food found in flowers – pollen and nectar.  So having more flowers in your garden will attract more pollinators 
In the world of flowers though some are more attractive to pollinators than others. This is because they may have more pollen and nectar than other flowers, they may flower at a time when there aren't many other plants in flower or the flower structure may just be more conducive to landing and feasting.
Pollinator Attracting Plants
There are plenty of plants which will attract bees and other pollinators but here are some of the very best:
Annuals – alyssum, cosmos, Queen Anne's Lace, calendula, phacelia
Perennials – daisies, salvias, penstemons
Trees & Shrubs – eucalypts, grevilleas, bottlebrushes, buddleia, abelia, tea trees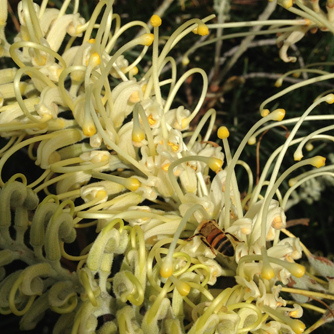 Seed Mixes
A few seed companies sell special mixes which contain a blend of annuals and perennials designed specifically to attract beneficial insects. They often include the above mentioned plants and the mix can be scattered around veggie patches, under fruit trees or grown in large pots.
Insect Hotels
Recently there's been a surge of "Insect Hotels" for sale in stores and DIY instructions available online. However pollinators will naturally find existing nooks and crannies for nesting and sheltering in without the need for an official "hotel".  But hey they do look cute and if they attract some native solitary bees and other guests that's just a bonus.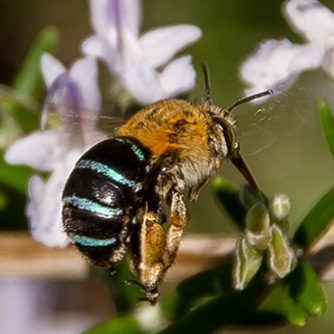 Native Beehives
Increasingly gardeners are installing small hives of native stingless bees to boost pollination. These native bees only produce small quantities of honey and don't need to be intensively managed like honey bees.  They are best for areas with mild winters and can be left undisturbed whilst they go about their pollinating business.  
If you live in an area which is too cold to keep a stingless hive there are still many other native bees that can help with pollination. Often they are solitary species which don't congregate in a hive but nonetheless they will still be attracted to your garden if it is full of flowers ladened with pollen and nectar.